The 2021 Subaru Love Promise Customer and Community Commitment Award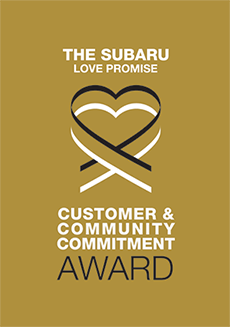 We've been nationally recognized for our dedication to our customers, our community, and the Subaru Love Promise.
We're honored to receive the 2021 Subaru Love Promise Customer and Community Commitment Award. This award nationally recognizes elite Subaru retailers who provide an exceptional customer experience at every interaction with Subaru. These retailers have also demonstrated an outstanding commitment to supporting passions and causes in their local communities in important areas such as the environment, community, health, education, and pets.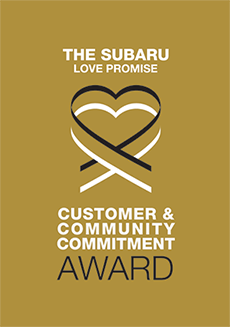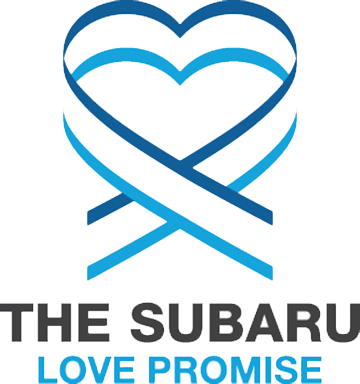 What is the Subaru Love Promise?
Subaru and our retailers believe in making the world a better place and the Subaru Love Promise is our vision of respecting all people. This is our commitment to show love and respect to our customers and to work to make a positive impact in the world.
How is Palm Springs Subaru dedicated locally to the Love Promise?
Our Love Promise can be seen in various partnerships with local charities and non-profits. We're grateful for the opportunity, not only to be a part of our community, but to serve it as well.
Paws and Hearts, Loving All Animals, ARF (Animal Rescue Friends of Idyllwild)
Idyllwild Middle School, Kings Schools, Idyllwild Arts
Chamber of Commerce, Coachella Valley Soccer Club, Palm Springs Air Museum, Palm Springs Power Baseball, Cathedral City Lions Youth Football
Idyllwild 5k and 10k Walk/Run, United Celebral Palsy Inland Empire
Love Promise Stories from Palm Springs Subaru
Subaru and Palm Springs Subaru believe in making a positive impact on the communities in which we live and work. We uphold that belief through our Love Promise Community Commitment. Every month, we select inspiring stories from customers and partners from around our area who strive to support our collective commitment and feature them here
Rupert Gets a Second Chance at Love - Briana M
Rupert was brought to the Palm Springs Animal Shelter in July, along with his brother Will, when they were both about 4 months old. Both kittens were nearly feral, extremely shy, and afraid of humans. After spending some time in a foster home, both brothers came around to their foster family a bit more and were then made available for adoption. Unfortunately, due to their age and the number of very small kittens we had over the summer, Rupert and his brother were often overlooked. After a while, Will found a home and Rupert remained with us at Palm Springs Animal Shelter. Eventually Rupert was adopted, but unfortunately returned to us after not being outgoing enough for his new family. We took a new approach once Rupert returned. We placed him in a free roaming cat room where he would hang out all day with 4 to 6 other cats his age. With the help of some very dedicated volunteers, we were able to help Rupert come out of his shell even more. After spending two more months in our care, the Palm Springs Animal Shelter held an adoption event thanks to the support of Subaru. Rupert was adopted by a new family who fully understood his timid nature, but had high hopes that with the help of his new cat brother and their quiet home, Rupert would blossom. Last week, Rupert's new family sent a photo of him and his adopted brother telling us that he has already made strides and his adoptive family loves him very much. Rupert is even warming up to letting them show their love through pets and hugs. This second chance at love was made possible by Subaru's support of our annual adoption event. We, Rupert, and hundreds of pets are grateful for Subaru's incredible generosity and commitment to our community's animals over the years.
---
Thank you Palm Springs Subaru Family! - SAndra G
Huge thanks to our Palm Springs Subaru family for always creating a positive impact in the lives of our UCPIE special needs children and families! More than ever, we are committed to delivering hope, smiles, education and life-changing programs to our UCPIE families. We are sincerely grateful for our Palm Springs Subaru family who continue to engage in extraordinary ways! PS Subaru's most recent UCPIE sponsorship has helped us in providing over 300,000 pieces of PPE to over 500+families. PPE includes: face masks, hand sanitizer, Clorox wipes, gloves, and other disinfecting products. In addition, we were able to grant laptops to children who had no access to connect to virtual educational programming! Founded in 1985 the mission of UCPIE is to advance the independence, productivity and full citizenship of people with disabilities, not just cerebral palsy but all developmental disabilities including intellectual disabilities, autism, down syndrome and other special needs. UCPIE provides family support services for children and adults with special needs. Services provided are in-home respite care for people of all ages, out of school care through our after-school and summer Skill Builders program, adaptive sports, and resource and referral services. For over 30 years, UCPIE has been helping individuals with disabilities, providing them with the tools to help reach their full potential and become engaged members of our community. Thank you Palm Springs Subaru for joining us on this beautiful journey! To learn more about UCPIE please visit: https://ucpie.org
---
Giving Tuesday - Scott R
Palm Springs Subaru is offering a $10,000 matching grant for the Boys & Girls Club of Cathedral City Giving Tuesday Now campaign.COVID-19 has swiftly spread across this country, creating fear, anxiety, and uncertainty for the children and families we serve. While the Boys & Girls Club of Cathedral City faces its own financial challenges related to COVID-19, we are committed to ensuring our entire community emerges from the pandemic stronger than ever. And we are committed to ensuring Club staff, members, families, and communities have the resources and support they need to navigate these uncertain times – while also partnering with state and local officials to do more.On Friday, March 13th, we closed our Clubhouse doors to the children of our Club due to the COVID-19 pandemic. This presented a hardship for many of our constituents including, children, families, staff, and volunteers. Our Boys & Girls Club was the first in our Valley with a weekly online Virtual Boys & Girls Club Experience for our members. Within one week our staff had recreated remote and virtual implementations of our core program deliverables of Academic Success, Healthy Lifestyles, and building Good Character and Citizenship. We have youth leadership meetings on Zoom. We are having outdoor environmental education following the hatching of two baby hummingbirds. And we are hosting guest workshops and special classes on culinary, exercise, arts & crafts, and reading. Our Virtual Club Experience has been well received by our members and duplicated at other Boys & Girls Clubs across our nation. Boys & Girls Clubs serve the needs of our communities by providing safe places, support from caring mentors, and access to fun and educational programs. Today, kids and communities need Clubs more than ever. Schools have closed, and thousands of children are left without a meal or snack to eat. But there is hope. Although our Club is temporarily closed, we are still providing services and doing critical work. With your help, we can continue doing whatever it takes for our youth, families and communities. Scott Robinson Boys and Girls Club Cathedral City
---
King's Schools Thanks Palm Springs Subaru! - Shery D
THANK YOU Palm Springs Subaru for the generous donation of 150 outstanding science trade books! We continue to engage our students in the pursuit of academic excellence and these books help us continue that mission. It's especially exciting to engage students in the field of science and to learn new things about the amazing world we live in. Thank you for helping us motivate our students with these intriguing, appealing BOOKS! The student loved receiving this outstanding gift from you. We appreciate you!
---
Spreading the Love 2019! - Leukemia Lymphoma Society
On Friday June 14, The Leukemia & Lymphoma Society Orange County Inland Empire Chapter and Palm Springs Subaru had the pleasure of delivering 80 blankets and 50 arts & craft kits to Desert Regional Comprehensive Cancer Center as part of the Subaru Loves To Care program. LLS staff Sindy and Subaru staff Candace received a tour of the facility by Teresa Whipple, Executive Director of the Cancer Center where they got to see treatment areas including the labs and women's area where they provide wigs to cancer patients. This incredible act of generosity was warmly received by the cancer center staff who were thrilled to distribute the comforting gifts to their patients who would greatly benefit from receiving blankets that can be used during treatment as it gets very cold in the facility. Many thanks to everyone at Palm Springs Subaru and Desert Regional Comprehensive Cancer Center, not only for a great blanket delivery, but for supporting LLS's mission to cure blood cancers and improve the quality of life of patients and their families.
---
Desert Care Network - Samantha V
The Comprehensive Cancer Center was happy to welcome hundreds of blankets and arts and crafts kits from Palm Springs Subaru and the Leukemia & Lymphoma Society today! These will be provided to newly diagnosed cancer patients! Thank you!!
---
King's Schools Loves to Read! - Shery D
Thank you so much, Palm Springs Subaru, for the generous donation of books! There's a wonderful variety of science books for all different ages. The students love the books, and the teachers really appreciate the science/STEM connections. Several of our classes "buddy" with other grades and have read the books together even. Thank you for helping us foster a love of reading and science! Thank you for gifting our school with these beautiful books!
---
Subaru Loves to Care - Yvette S
On July 7, 2017 Loma Linda Children's Hospital and the department of Pediatric Hematology/Oncology Infusion Center hosted the Leukemia & Lymphoma Society & Palm Springs Subaru for the delivery of blankets and craft kits. Two volunteers from the Palm Springs Subaru in Cathedral City, California attended the event along with one LLS staff. For the purpose of delivering the blankets to pediatric cancer patients as well as bringing a smile to their face. We were able to hand deliver the blankets and craft kits to about 10-15 patients undergoing their chemotherapy treatment on site. Gaven Hamrick, 9 (AML Cancer Patient), of San Bernardino, was just one patient at the LLUCH clinic to receive a blanket and craft kit from the Leukemia & Lymphoma Society and Subaru San Bernardino. "I can definitely use this stuff with my sister," the fourth grader said of the crayons, markers and clay found in the craft kit. Hamrick was extremely appreciative of his new blanket saying he likes it cold in his room so he can get cozy under blankets. He stated also stated that his medications has been making him feel different. "I don't even recognize myself when I look at the mirror anymore, my cheeks are so chunky".
---
Subaru and NWF Love the Earth! - Stephany B
We love our new planter! Thank you!
---
4th of July - chuck w
You folks at Palm Springs Subaru are incredible partners. This is the second year you have been a sponsor of the Idyllwild Rotary 4th of July parade and Family Freedom Festival. Not only is your product the best there is for mountain driving.... but your entire team is so supportive of our community up in the San Jacinto Mountains. As the official car of Idyllwild....in our mile high town....you are a mile above all the other car brands with un-compromised service. As a Rotarian- our mantra is "Service Above Self" and you folks at Palm Springs Subaru put your service to our community above any other auto organization within 200 miles. A huge thanks for your partnership, and your friendship! Chuck Weisbart President, Idyllwild Rotary 2015-16
---
POP! Pets On Parade - Linda T
Pets On Parade is an 18-year-old iconic event with 500+ in attendance was a giant success. Many thanks to Subaru. People loved seeing the full size new Subaru Car at the event, and your famous award winning Subaru "Dog Tested " commercials running during the reception. The Subaru logo dog toys that Orie Mann brought to the event, where he was signing up test drives, were a big hit with all the animal lovers. We had the Subaru logo that was emailed to us blown-up into elegant posters that guests saw as the entered and left the ballroom. Thank you Subaru for making a great car and loving animals!
---
Subaru Loves Helping Teachers! - Ellen G
Palm Springs Subaru always goes above and beyond in our community. Palm Springs Unified School District is forever grateful for the continued support of Team Subaru of Palm Springs. This year's sponsorship helped support the production of an event that attracted 850 people who participated in downtown Cathedral City. These 850 community enthusiasts ran, walked, danced, and or skipped their way around City Hall which raised critical dollars for our teachers and their classroom supplies. This one of a kind Glow-in-the-Dark paint fun run/walk is the only event of its kind in the valley and loved by all. Thank you again Team Subaru!! We hope to see you again next year for a bigger and better event!
---
Jimmy Campbell Memorial Softball Tournament - Matthew K
Palm Springs Subaru has been a faithful participant for the last 8 years in the Jimmy Campbell Memorial Softball Tournament. Not only have they participated each year, but they have been the largest sponsor of the tournament which has greatly aided Idyllwild School's middle school sports program. Profits from the tournament have gone towards sustaining the sports program for the last 8 years, especially when school budgets were impacted. Idyllwild School was the only school to sustain a middle school sports program during the lean years within their school district due in large part to the generosity of Palm Springs Subaru. Several students who have participated in our sports programs have gone onto play varsity sports at Hemet High School and a few have even obtained athletic scholarships at the collegiate level! All of this would not have been possible without the generosity and compassion Palm Springs Subaru has bestowed upon the youth of the Idyllwild community.
---
Idyllwild School annual 5k fun run for kids sports - Charles S
For over thirty years the Idyllwild Race Committee has hosted the Idyllwild 5K and 10K race, walk and kids fun run to raise funds for the physical education program at Idyllwild School. This year our Diamond sponsor was Palm Springs Subaru. Not only did they sponsor the event they came out and greeted the runners, walkers and kids. They gave out cool Subaru gifts. With well over 300 runners this year, it was another great fundraiser for physical education program at our small town grade school. Thank You Palm Springs Subaru and especially Orie Mann for spending the morning handing out smiles and "Mann"ing the Subaru booth. Dr. Charles Schelly member Idyllwild Race Committee
---
Paws for Rhythm and Brews - Janice M
Palm Springs Subaru came through for ARF (Animal Rescue Friends) of Idyllwild once again this year, providing shuttles for its annual beer festival fund raiser. In addition to making sure our guests had safe rides to and from town, Orie was at the event with an awesome booth, giving away fabulous pet-related swag! ARF is thankful that Palm Springs Subaru shares its love with the homeless dogs and cats of our mountain communities. This support aids ARF in raising the funds necessary to continue in its mission. Thank you Palm Spring Subaru. We love you!
---
Subaru of Palm Springs - Making a Difference! - Scott R
The children in our community matter to our local Subaru Dealership. Through their volunteerism and financial support for the Boys & Girls Club of Cathedral City, Subaru helps over 100 kids daily to assure academic success. This includes early reading intervention, homework assistance, and college accessibility! Our kids have a brighter future because... Subaru "Shares the Love!" Thanks!!!
---
Swag Bags for Le Chien - Miriam W
The annual Le Chien Fashion Show benefits the Humane Society of the Desert. For the past few years, Desert Pet Companion Magazine has supported the event by donating Swag Bags for Le Chien attendees as a take-home gift to thank them for their support. In order to do this, DPC requests samples and goodies from our advertisers to help fill the bags. This year, one of our newest advertisers, Palm Springs Subaru, generously donated Subaru-themed pet goodies including scoops, pick-up bags & holders, flying discs and bandannas! Thank you, Palm Springs Subaru, for your donations and support of our local pet rescue and adoption organizations! Subaru Loves Pets and Desert Pet Companion Loves Subaru (especially Palm Springs Subaru!!).
---
Art Walk & Wine Tasting - Grace R
We loved being a part of this year's Art Walk & Wine Tasting. To make sure that all of the people got a chance to enjoy their time Palm Springs Subaru made sure that we had shuttles to drive patrons to and from the event. It was another beautiful day on the hill and we look forward to being involved to help The Art Alliance of Idyllwild again soon!
---
PS Health Fest - Diana M
The Palm Springs International Health & Fitness Festival is working to have Palm Springs be recognized as a world leader in Health & Fitness by bringing together the best resources for the body, mind and spirit and offer the community (and visitors) an educational, interactive and informative three-day festival. It will showcase culture, engaging activities, holistic therapies, medical resources plus breakthrough products and programs that encourage and support individuals and families to make healthy lifestyle choices. It was a great opportunity to be involved in something Palm Springs Subaru knows is very important for everyone and that is your health.
---
Pet-A-Thon - Alex G
We are proud to have been a part of the 1st ever Loving All Animals Pet-A-Thon. We got to hang out at Westfield Palm Desert surrounded by tons of pets who had their forever family and many who got to find their very own person because of the pet adoption. There was even a puppy fashion show. The ones who weren't walking the catwalk did sport Subaru doggie bandanas we handed out. We are so excited that Loving All Animals was able to exceed their goal of raising money to help make the Coachella Valley a no-kill place for animals to be. Palm Springs Subaru can't wait to support such an important cause for many years to come.
---
Subaru Loves Learning - Katie D
Throughout the month of August 2015, Subaru helped teachers and students nationwide by providing the necessary school supplies teachers need to teach, and students need to learn by partnering with AdoptAClassroom.org. At Palm Springs Subaru this August, we invited our customers to Stuff a Subaru with school supplies for a local classroom. We helped raise over $800 worth of school supplies for Ms. Katie Dale's first grade classroom at King's School. We had $20 bundles of school supplies available for people to buy and donate back. We matched bundle for bundle and were able to fill and deliver a Subaru to our first grade class before the start of the new year. To our awesome first graders - Set your goals high, work hard and you can accomplish anything!!! We can't wait to see how awesome you do in Ms. Dale's class!
---
Jazz in the Pines 2015 - Theresa T
The Idyllwild Arts Foundation proudly presents the 22nd annual Jazz in the Pines Festival this August 15th and 16th, featuring over two dozen bands. Performers and fans of jazz, blues, and R&B have a breathtaking mountain campus to themselves after the departure of the Idyllwild Arts Summer Program's thousands of arts-lovers and before the first semester of the Foundation's residential high school, Idyllwild Arts Academy. Jazz in the Pines is an annual event for us as well. We believe in helping young adults to work hard and follow their passion. If you live in the desert and have yet to experience this amazing event you need to go next year. Not only does it let you escape from the heat in the middle of summer but you get to experience some of many wonderful and talented artists that perform every year! Palm Springs Subaru is proud to help sponsor Idyllwild Arts and we look forward to being a part in 2016.
---
25th Annual "Life Without Limits" Bowl-a-thon - Greg W
One of the longest tenured charity organizations in the valley, "United Cerebral Palsy of the Inland Empire" held it's annual Bowl-a-Thon in Cathedral City. The event, which raised over $9000, helps donate funds for after school programs throughout the valley. For the past 26 years, the United Cerebral Palsy Center of the Inland Empire has provided services to children with disabilities to help them lead a life without limits. One lucky girl, Nia, was the recipient of a brand new specially built bicycle so that she can enjoy riding without limitations. It is an event that we hold close to our heart at Palm Springs Subaru and look forward to attending and supporting every year. Congrats Nia!
---
Paws For Rhythm & Brews - Janice M
Looking at the statistics of rescues, placements, and services rendered, one would never guess that Animal Rescue Friends of Idyllwild (ARF) is operated entirely by fewer than a dozen volunteers and animal fosters. ARF, the little rescue with the big heart and home of love and second chances, was founded in 1994 to meet a need in Idyllwild and neighboring mountain communities. ARF's mission is to rescue animals that have been abandoned, lost, or whose owners are no longer able to care for them. A.R.F. decided to invite some of the many of the local home brewers to the First Annual Paws for Rhythm & Brews Festival. We at Palm Springs Subaru are committed to safe driving so along with a booth we also provided the complementary shuttle service for all the people who attended the event. It was the perfect combination of Subaru's passions for safety and pets. We can't wait to be involved again next year!
---
Idyllwild 5k & 10k Fitness Run & Fitness Walk - Charles S
With more than 34 years of presenting this race, the Idyllwild Race Committee (501c3) has donated a total of over $70,000.00 to the Idyllwild School athletic and physical education program. This has enabled the school to purchase a scoreboard, indoor climbing wall, PE equipment, team uniforms, coaching fees, and a portable sound system. The school has even been able to equip an entire fitness lab for students funded entirely from the proceeds of the race. At Palm Springs Subaru we are proud to be have been the Blue Diamond sponsor in July 2015 so that some very special kids can enjoy the coming school year.
---