The 2022 Subaru Love Promise Community Commitment Award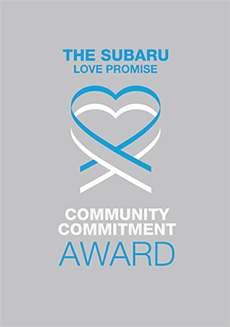 We've been nationally recognized for our dedication to our community and the Subaru Love Promise.
We're honored to receive the 2022 Subaru Love Promise Community Commitment Award. This award nationally recognizes Subaru retailers who are making the world a better place while demonstrating an outstanding commitment to supporting passions and causes in local communities. These efforts are focused in important areas such as the environment, community, health, education, and pets.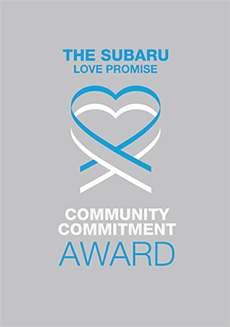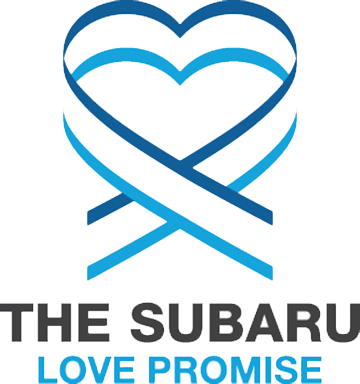 What is the Subaru Love Promise?
Subaru and our retailers believe in making the world a better place and the Subaru Love Promise is our vision of respecting all people. This is our commitment to show love and respect to our customers and to work to make a positive impact in the world.
How is Palm Springs Subaru dedicated locally to the Love Promise?
Our Love Promise can be seen in various partnerships with local charities and non-profits. We're grateful for the opportunity, not only to be a part of our community, but to serve it as well.
Palm Springs Animal Shelter, ,
Friends of the Desert Mountains
Kings School, Boys and Girls Club of Cathedral City , Palm Springs High School , John F. Kennedy Elementary School
Coachella Valley Rescue Mission, Cathedral City Police Dept., FIND Food Bank , Palm Springs Youth League, Cathedral City Lions Youth Football, Toys 4 Tots
LifeStream Blood Bank , United Celebral Palsy Inland Empire
Love Promise Stories from Palm Springs Subaru
Subaru and Palm Springs Subaru believe in making a positive impact on the communities in which we live and work. We uphold that belief through our Love Promise Community Commitment. Every month, we select inspiring stories from customers and partners from around our area who strive to support our collective commitment and feature them here
Boxing - Samantha D
I work for Palm Springs Police as a 911 Dispatcher, I compete in charity boxing events called Battle of the Badges and Battle in the Desert. These events help raise money for youth organizations such as Boys & Girls Club and Cops 4 Kids. All my expenses to participate in these events for training, gear, and travel come out of pocket. Palm Springs Subaru was kind enough to sponsor me in order to help with some of my expenses and it has really helped a great deal. I'm happy to be wearing their logo on my boxing shorts and my team shirts. Thank you so much Palm Springs Subaru!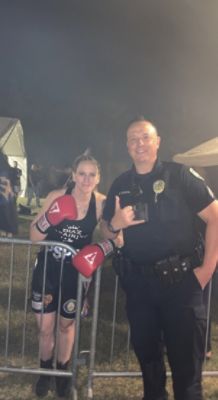 ---
Annual Bowl-a-thon supports United Cerebral Palsy of the Inland Empire - Calista V
At the 32nd annual United Cerebral Palsy of the Inland Empire (UCPIE) Bowl-a-thon, held Sept. 10 at Palm Springs Lanes, every game was a perfect game. Palm Springs Subaru was the event's presenting sponsor and had three lanes of bowlers participating in the festivities. The Bowl-a-thon reflects UCPIE's mission: "Life without limits for people with disabilities." This year's Bowl-a-thon drew approximately 150 people and raised $12,000 to support UCPIE's adaptive bike and after-school programs. The adaptive bike program is open to special needs individuals of all ages residing in both Riverside and San Bernardino counties. According to UCPIE, support from event sponsors means that 100% of the funds raised will go directly to programs. Describing UCPIE as "a wonderful organization," Renee Griffin of the High Hopes Dance Troupe said, "Look at what they do. Bringing the community together from young to old. Giving them an opportunity to be together to be happy and, as they say, living life to its fullest." As the organizers note, the Bowl-a-thon is a striking example of the ways in which UCPIE family members come together to "uplift, inspire and make a positive impact in our local community." And they do it with love — to spare. Thanks to Palm Springs Subaru for your continued support in making fun events like this possible for our families and for helping us raise much needed funds for our community. Providing programs and services in Riverside and San Bernardino Counties, UCPIE's mission is to advance the independence, productivity and full citizenship of people with disabilities. To learn more, visit ucpie.org.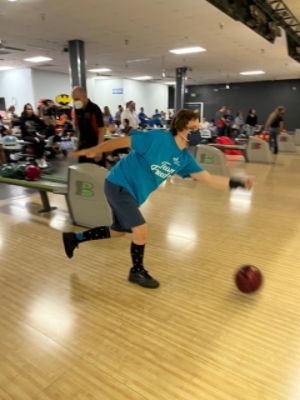 ---
Thank you from Mr.Mojica's Class at Desert Hot Springs High School!!! - Oscar M
As a first year teacher here in the Coachella Valley I was so excited to get my first classroom! My classroom was very bare but with the help from Kayla at Palm Springs Subaru I was able to get it prepared for the new school year! Palm Springs Subaru was kind enough to clear my Amazon Teacher wish list and help with supplies for my students!!! We appreciate it so much!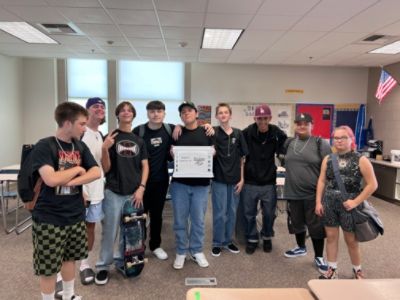 ---
Bringing Warmth and Hope in the Desert - Brendan S
The Comprehensive Cancer Center was excited to welcome the Leukemia and Lymphoma Society and Palm Springs Subaru along with their donation of blankets and arts and crafts kits for our patients. Thank you for making an impact in the lives of our patients during this difficult season. Patients will be able to bring these blankets to and from treatments. We are thankful for Palm Springs Subaru and their mission to give back to those in their community.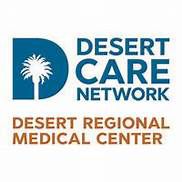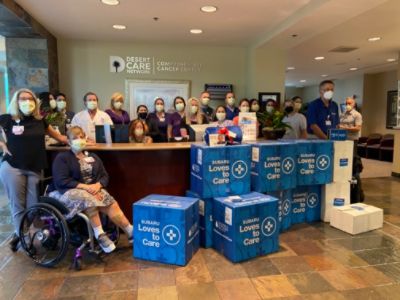 ---
Subaru Loves to Care at Desert Regional Medical Center - Amber S
On June 13, in partnership with The Leukemia & Lymphoma Society, Palm Springs Subaru donated 80 plush blankets and 25 arts & crafts kits to Desert Regional Medical Center. One of the representatives from Desert Regional Medical Center shares her reaction to members outside of the healthcare community step into action. "It is such a delightful surprise that folks in business would be thinking from the point of view of a cancer patient. Thinking of what they are going through and how they can make a difference. We are so grateful for Subaru for doing this. This makes such a difference for patients while they're receiving chemotherapy to have a warm fuzzy blanket. Even in the summer they get very cold during the infusion, so for them to get a blanket of their own, to take home and bring back for their next infusion is really wonderful. And patients can't believe it when we they receive gifts like this!" Desert Regional Medical Center has joined with Hi-Desert Medical Center and JFK Memorial Hospital to create a new community of care, Desert Care Network, and has become one of the largest primary care networks in the Desert Area. Palm Springs Subaru is one of the many Subaru retailers nationwide participating in the Subaru Loves to Care program. This program has allowed Subaru retailers across the nation to donate over 230,000 blankets and 31,000 arts and crafts kits, along with care, hope, and information about cancer support available through the LLS. This is the seventh year in a row that LLS has been selected by Subaru of America to carry out their Subaru Loves to Care program across the nation.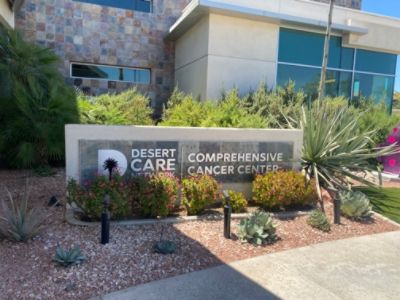 ---
Earth Day Clean Up w/ Friends of the Desert Mount. - Tammy M
For the second year, Palm Springs Subaru contributed their funds and time to help beautify and restore our local trails. This year we were thankful for their help and effort in bringing the visitor center back to life after being closed to the public for the last two years. We are thankful for Palm Springs Subaru's continued support to Love the Earth and serve the community surrounding our beautiful valley.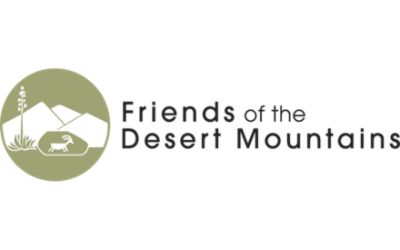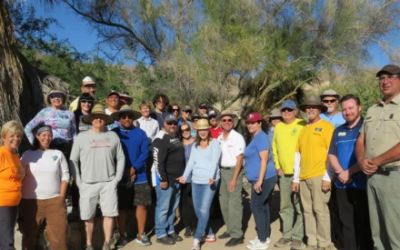 ---
Fighting Hunger in the Coachella Valley - B L
Hunger and food insecurity are widespread and affect a diverse range of people and places in the Coachella Valley desert region. Our organization was created over three decades ago to assist and empower those who face challenges meeting their basic nutritional needs. FIND is a healthy food bank that delivers fresh and non-perishable food to a vast network of community agency partners and directly to people in our communities. Our approach is holistic and dedicated to educating the community, raising awareness, and mobilizing resources to fight hunger and end the cycle of poverty. Our goal is to end hunger today, tomorrow, and for a lifetime. Thank you Palm Springs Subaru for helping us in this fight, together we can fight food insecurity in the Coachella Valley.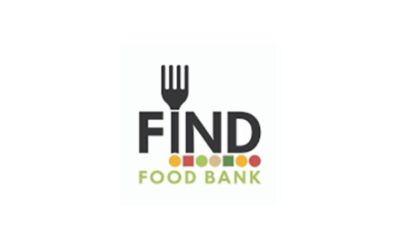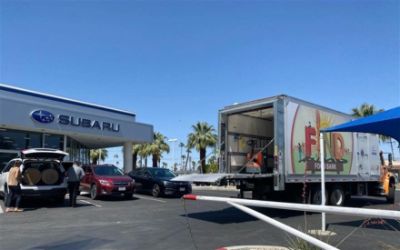 ---
UCPIE's Team Freedom at Tour de Palm Springs - Calista V
United Cerebral Palsy of the Inland Empire (UCPIE) has been creating smiles, freedom and belonging since 2012 with their adaptive bike program and Team Freedom at Tour de Palm Springs. Each bike is custom made to support the rider's abilities and helps them meet their physical therapy goals. Riders discover a new found freedom on their bike and also partake in a larger community: from family bike rides, to taking off with friends, to many special events where riders experience a sense of accomplishment and connection. Each year Team Freedom walks and rides in the Tour de Palm Springs, one of the largest cycling charity events of its kind in America. On February 12, 2022 UCPIE's Team Freedom had over 70 participants both on location and virtually participate in their neighborhoods and communities to participate in the 24th annual Tour de Palm Springs. "It's amazing, especially with being apart so long to see the unity of a community to support not only local non-profits but health and wellness as a whole." said Rhea Hoffman, first time Tour de Palm Springs participant. Practicing social distancing but brought together on social media, virtual team members and their families shared photos and videos using the hashtags #ucpie #teamfreedom2022 #tourdepalmsprings. Lori Enroth shares her family's experience, "While we are still quarantining to protect Andy, our medically fragile son, we got to show our team spirit and be part of the Tour de Palm Springs by walking in our backyard. Thanks to all of our friends and family who supported UCPIE!" UCPIE's Team Freedom would like to thank Palm Springs Subaru for not only sponsoring us at this event but also walking with us! Money raised by Team Freedom helps UCPIE fund life-changing programs and services for many special needs families in the Inland Empire. Everyone also loved the Subaru sunglasses and drink koozies that were included in their bag for the event. Palm Springs Subaru is awesome! For more information about UCPIE please visit ucpie.org. For more information about Tour de Palm Springs visit tourdepalmsprings.com.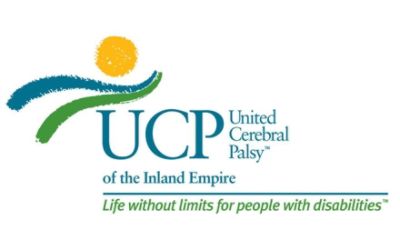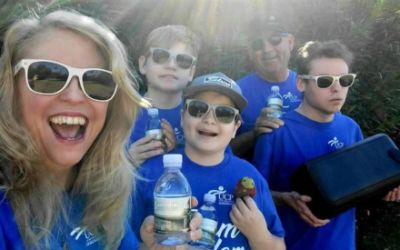 ---
Subaru Loves Learning at JFK Elementary - Cynthia K
Dear Palm Springs Subaru, I wanted to thank you for the kind donation that allowed me to purchase supplemental items for my classroom. As you know the current pandemic was devastating to our educational system. Many of my students are 2 to 3 years below grade level and with the curriculum that we are given most of the materials do not have enough supplemental materials to help those students get caught up. Your generous donation has allowed me to give my students the materials that they need to help fill those gaps. They truly enjoy being able to take folders back to their desk to work on. The colorful folders are an added bonus for those that are visual and need extra enhancement to complete their tasks. Thank you for making a difference in my classroom!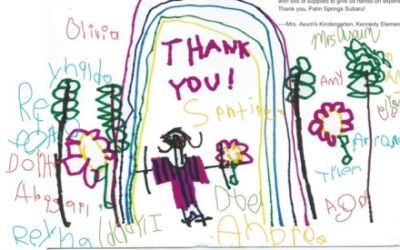 ---
Lifesaving Blood Drive - Jacob P
The blood drive at Palm Springs Subaru was a great turnout! We now have the potential to save over 50 lives with these donations. There is currently a national crisis as many hospitals have less than a days supply on hand. Blood donations are needed now more than ever to avert the need to cancel future treatments. Thank you Palm Springs Subaru team for rolling up your sleeves to help save lives.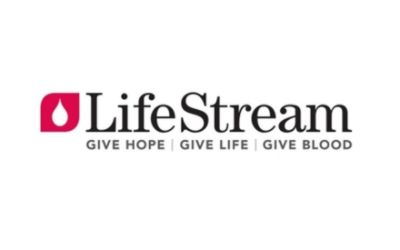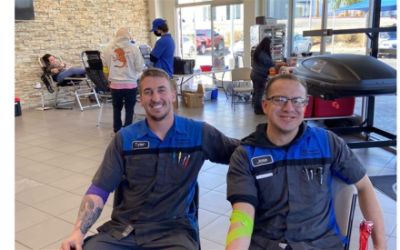 ---