The 2022 Subaru Love Promise Community Commitment Award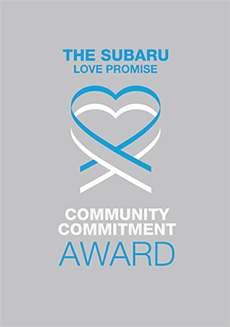 We've been nationally recognized for our dedication to our community and the Subaru Love Promise.
We're honored to receive the 2022 Subaru Love Promise Community Commitment Award. This award nationally recognizes Subaru retailers who are making the world a better place while demonstrating an outstanding commitment to supporting passions and causes in local communities. These efforts are focused in important areas such as the environment, community, health, education, and pets.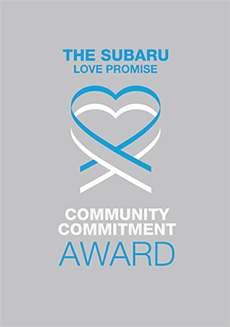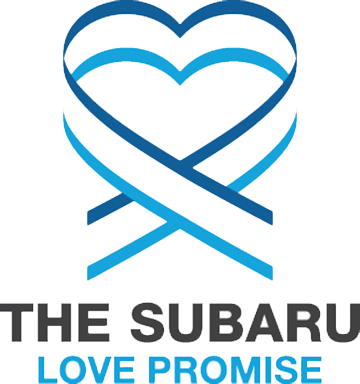 What is the Subaru Love Promise?
Subaru and our retailers believe in making the world a better place and the Subaru Love Promise is our vision of respecting all people. This is our commitment to show love and respect to our customers and to work to make a positive impact in the world.
How is Palm Springs Subaru dedicated locally to the Love Promise?
Our Love Promise can be seen in various partnerships with local charities and non-profits. We're grateful for the opportunity, not only to be a part of our community, but to serve it as well.
Palm Springs Animal Shelter, ,
Friends of the Desert Mountains
Kings School, Boys and Girls Club of Cathedral City , Palm Springs High School , John F. Kennedy Elementary School
Coachella Valley Rescue Mission, Cathedral City Police Dept., FIND Food Bank , Palm Springs Youth League, Cathedral City Lions Youth Football, Toys 4 Tots
LifeStream Blood Bank , United Celebral Palsy Inland Empire
Love Promise Stories from Palm Springs Subaru
Subaru and Palm Springs Subaru believe in making a positive impact on the communities in which we live and work. We uphold that belief through our Love Promise Community Commitment. Every month, we select inspiring stories from customers and partners from around our area who strive to support our collective commitment and feature them here
Fighting Hunger in the Coachella Valley - B L
Hunger and food insecurity are widespread and affect a diverse range of people and places in the Coachella Valley desert region. Our organization was created over three decades ago to assist and empower those who face challenges meeting their basic nutritional needs. FIND is a healthy food bank that delivers fresh and non-perishable food to a vast network of community agency partners and directly to people in our communities. Our approach is holistic and dedicated to educating the community, raising awareness, and mobilizing resources to fight hunger and end the cycle of poverty. Our goal is to end hunger today, tomorrow, and for a lifetime. Thank you Palm Springs Subaru for helping us in this fight, together we can fight food insecurity in the Coachella Valley.
---
UCPIE's Team Freedom at Tour de Palm Springs - Calista V
United Cerebral Palsy of the Inland Empire (UCPIE) has been creating smiles, freedom and belonging since 2012 with their adaptive bike program and Team Freedom at Tour de Palm Springs. Each bike is custom made to support the rider's abilities and helps them meet their physical therapy goals. Riders discover a new found freedom on their bike and also partake in a larger community: from family bike rides, to taking off with friends, to many special events where riders experience a sense of accomplishment and connection. Each year Team Freedom walks and rides in the Tour de Palm Springs, one of the largest cycling charity events of its kind in America. On February 12, 2022 UCPIE's Team Freedom had over 70 participants both on location and virtually participate in their neighborhoods and communities to participate in the 24th annual Tour de Palm Springs. "It's amazing, especially with being apart so long to see the unity of a community to support not only local non-profits but health and wellness as a whole." said Rhea Hoffman, first time Tour de Palm Springs participant. Practicing social distancing but brought together on social media, virtual team members and their families shared photos and videos using the hashtags #ucpie #teamfreedom2022 #tourdepalmsprings. Lori Enroth shares her family's experience, "While we are still quarantining to protect Andy, our medically fragile son, we got to show our team spirit and be part of the Tour de Palm Springs by walking in our backyard. Thanks to all of our friends and family who supported UCPIE!" UCPIE's Team Freedom would like to thank Palm Springs Subaru for not only sponsoring us at this event but also walking with us! Money raised by Team Freedom helps UCPIE fund life-changing programs and services for many special needs families in the Inland Empire. Everyone also loved the Subaru sunglasses and drink koozies that were included in their bag for the event. Palm Springs Subaru is awesome! For more information about UCPIE please visit ucpie.org. For more information about Tour de Palm Springs visit tourdepalmsprings.com.
---
Subaru Loves Learning at JFK Elementary - Cynthia K
Dear Palm Springs Subaru, I wanted to thank you for the kind donation that allowed me to purchase supplemental items for my classroom. As you know the current pandemic was devastating to our educational system. Many of my students are 2 to 3 years below grade level and with the curriculum that we are given most of the materials do not have enough supplemental materials to help those students get caught up. Your generous donation has allowed me to give my students the materials that they need to help fill those gaps. They truly enjoy being able to take folders back to their desk to work on. The colorful folders are an added bonus for those that are visual and need extra enhancement to complete their tasks. Thank you for making a difference in my classroom!
---
Lifesaving Blood Drive - Jacob P
The blood drive at Palm Springs Subaru was a great turnout! We now have the potential to save over 50 lives with these donations. There is currently a national crisis as many hospitals have less than a days supply on hand. Blood donations are needed now more than ever to avert the need to cancel future treatments. Thank you Palm Springs Subaru team for rolling up your sleeves to help save lives.
---
Sandra's CVRM Journey - Scott W
CVRM wishes to thank everyone at Palm Springs Subaru for their generous gift of blankets this fall. These blankets, although some were distributed directly to clients already at CVRM, are primarily being used to support our street outreach teams. Five days a week, our outreach teams are in the field making contact with the homeless community, meeting them where they are, bringing the Mission to them. We provide food, water, clothing, referral services, showers, and an opportunity to be transported back to CVRM for additional services and shelter. We encourage all we encounter to come back to CVRM, much like Sandra, who has made an incredible journey so far Here is her story: Sandra was previously living in Bakersfield where she was working at a group home facility but she was forced to resign which caused her to lose her apartment. She decided to move to Indio where she previously resided. Unfortunately, she lost the apartment she was renting in Indio and she was left homeless. Over the course of interacting with our street outreach teams, she was given food, water, clothing, and a blanket to make her more comfortable on the street. She soon reached out to CVRM seeking shelter and received help through our program staff to get back on track. Since then, she has taken advantage of the resources that CVRM provides and she is very grateful with the staff that motivates her to reenter into the community. She has stated, "The staff at CVRM have motivated me and made me feel that being homeless is not the end of our stability."
---
PSHS Softball - Marina A
Despite the shortened softball season this year PSHS Softball players raised money to purchase spirit packs including new custom jerseys. Thanks to our dedicated sponsors like Palm Springs Subaru the softball field has been upgraded and improved and will continue to improve for future players to come.
---
Reunited Rhonda - Catie V
Rhonda was surrendered into Palm Springs Animal Shelter with ear issues so severe she could hardly hear. We were able to call in a specialist to help reconstruct and allow for proper drainage. The surgery was a success however, due to ongoing allergies and potential future ear issues finding Rhonda a forever home was proving to be a challenge. As months passed Rhonda continued to be passed over. Finally, coincidentally, Rhonda was adopted by her former family. She was rehired a few years prior after the family had to move and due to Rhonda's breed she could not go with them. One of Rhonda's owners then saw that she was available for adoption again. Her living situation had changed and the opportunity to add this amazing pup into her family again could not be passed up. Rhonda was reunited with her original family and we couldn't be more thrilled. This underdog is now happily in her forever home - FOREVER!
---
Cathedral City Youth Lions Car Wash - Larry K
Thank You Palm Springs Subaru for allowing us to host a car wash at your dealership for the Cathedral City Youth Lions Football and Cheer Organization. The money raised will go towards purchasing new gear and equipment for the upcoming season as well as covering fees during playoffs. We encourage our players to develop lifelong work ethics and teamwork skills that will carry over both on and off the field. We are so thankful for Palm Springs Subaru's generous support over the years.
---
Rupert Gets a Second Chance at Love - Briana M
Rupert was brought to the Palm Springs Animal Shelter in July, along with his brother Will, when they were both about 4 months old. Both kittens were nearly feral, extremely shy, and afraid of humans. After spending some time in a foster home, both brothers came around to their foster family a bit more and were then made available for adoption. Unfortunately, due to their age and the number of very small kittens we had over the summer, Rupert and his brother were often overlooked. After a while, Will found a home and Rupert remained with us at Palm Springs Animal Shelter. Eventually Rupert was adopted, but unfortunately returned to us after not being outgoing enough for his new family. We took a new approach once Rupert returned. We placed him in a free roaming cat room where he would hang out all day with 4 to 6 other cats his age. With the help of some very dedicated volunteers, we were able to help Rupert come out of his shell even more. After spending two more months in our care, the Palm Springs Animal Shelter held an adoption event thanks to the support of Subaru. Rupert was adopted by a new family who fully understood his timid nature, but had high hopes that with the help of his new cat brother and their quiet home, Rupert would blossom. Last week, Rupert's new family sent a photo of him and his adopted brother telling us that he has already made strides and his adoptive family loves him very much. Rupert is even warming up to letting them show their love through pets and hugs. This second chance at love was made possible by Subaru's support of our annual adoption event. We, Rupert, and hundreds of pets are grateful for Subaru's incredible generosity and commitment to our community's animals over the years.
---
Thank you Palm Springs Subaru Family! - SAndra G
Huge thanks to our Palm Springs Subaru family for always creating a positive impact in the lives of our UCPIE special needs children and families! More than ever, we are committed to delivering hope, smiles, education and life-changing programs to our UCPIE families. We are sincerely grateful for our Palm Springs Subaru family who continue to engage in extraordinary ways! PS Subaru's most recent UCPIE sponsorship has helped us in providing over 300,000 pieces of PPE to over 500+families. PPE includes: face masks, hand sanitizer, Clorox wipes, gloves, and other disinfecting products. In addition, we were able to grant laptops to children who had no access to connect to virtual educational programming! Founded in 1985 the mission of UCPIE is to advance the independence, productivity and full citizenship of people with disabilities, not just cerebral palsy but all developmental disabilities including intellectual disabilities, autism, down syndrome and other special needs. UCPIE provides family support services for children and adults with special needs. Services provided are in-home respite care for people of all ages, out of school care through our after-school and summer Skill Builders program, adaptive sports, and resource and referral services. For over 30 years, UCPIE has been helping individuals with disabilities, providing them with the tools to help reach their full potential and become engaged members of our community. Thank you Palm Springs Subaru for joining us on this beautiful journey! To learn more about UCPIE please visit: https://ucpie.org
---